Mahr recently delivered this 2 part meter mix dispensing system for the road construction industry for bridge deck overlays. The customer needed a mobile mixer that performed with the same excellence and precision as our standard systems provide, however, this was to be mounted on a Volumetric Mixer and deliver the product on demand to overlay existing/new bridge decks while the truck was in motion.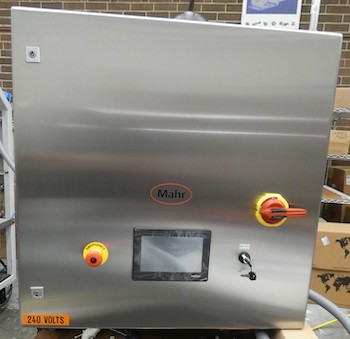 The challenge was clear. The system needed to be able to deliver the mixed product at a very precise time, uniformly. With Mahr Metering Systems integrated programming platform (provided in all of our standard metering systems), we were up for the challenge!  
With the systems PLC controller, the system is capable of reporting flow, quantity and generating a report by incorporating aggregate quantity into a cubic foot of material dispensed, resin ratio, aggregate weights, date, time and GPS coordinates. The aggregate weight is computed by digital pulse via a magnetic sensor with onsite printing and data download options.
Never before has the road construction industry been able to deliver the mixed product, automatically, on-the-fly with this level of required precision. The system was built with single phase 220 V power which made it easy to incorporate onto the truck with the use of a generator.
Our expertise in custom system building helped provide a major game change to the Heavy Highway Industry. What used to be a manual operation without verification has become a fully automated system for thin bonded epoxy bridge deck overlay for bridges in the United States. This resulted in lower operating expenses, faster project completions with field verification and reporting for our customers.  
Get a Custom Meter Mix Dispense System From Mahr
Mahr Metering Systems welcomes any challenge in providing a new way to get the job done with reduced costs, decreased material waste, verification, and quicker results. It's what we do!  And we love doing it!
To learn more about the custom meter mix dispense systems we can create for your unique needs, contact us today by calling 704-525-7128, or fill out our contact form.